U of I Greek Life - Sororities & Fraternities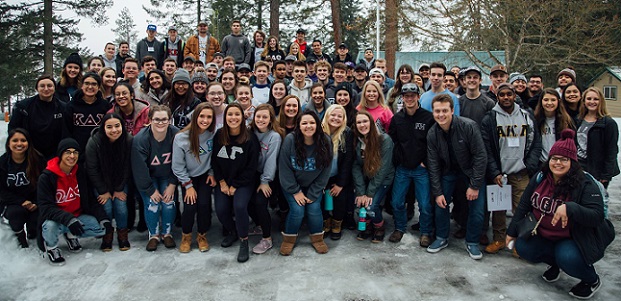 Honoring Fraternity & Sorority: A Lifetime of Support
The University of Idaho has long been a leader in the fraternal movement in the northwest. The Fraternity & Sorority community at U of I is a collection of international organizations with deep histories, traditions, cultures and values. Through partnership of our chapters and the university, our community fosters leadership, integrity, scholarship, loyalty, accountability and belonging in the lives of over 1,700 students.
At the University of Idaho, we understand the unique value that can come from a sisterhood of women or a brotherhood of men navigating the challenges of college and beyond. It is this bond that continues to help our community face the unique challenges associated with the COVID-19 Pandemic. As our chapters prepare for the fall semester, their focus continues to be centered on the safety and wellbeing of each member. This is where our Vandal Family can help. 
In light of the extraordinary circumstances brought about by the spread of COVID-19 (coronavirus), donations made to Greek Life Leadership Fund will provide financial assistance to students who are experiencing emergency situations that impede academic progress and for those who cannot reasonably resolve their financial situation through other sources. Your generosity will pave the way for many returning and incoming students as they continue to navigate their collegiate experience during these uncertain times. 
---